it
.
On a completely unrelated note (or not), my birthday is coming up in a couple of months and Christmas is a just a few days away. Let me know if you need my mailing address ;).
Cheers
Happy Holidays everyone !!!
Back when I was in college I had a very unhealthy addiction to my cell phone and used to want a cell phone on my wrist, because I thought it was too time consuming to actually look at the phone. Trust the good ol' people at Sony Ericsson to make
When I started this PhD program I thought I was leaving my geekiness behind. And now I vehemently claim to have joined the tech-savy group (as opposed to the uber-geek), but then I see things like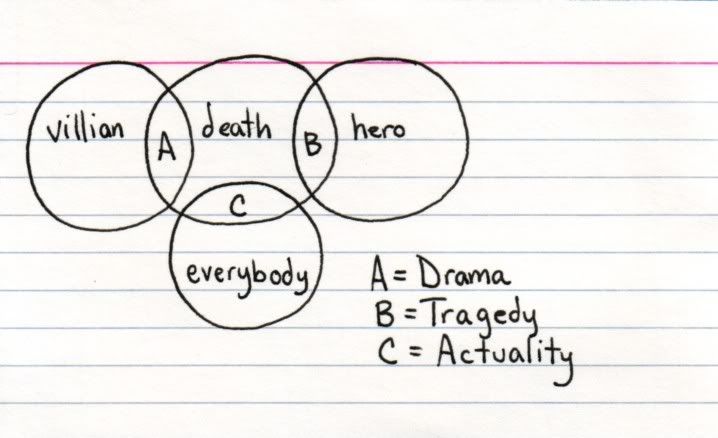 C = The best movies
This

is actually quite concise and appropriate synopsis of the film. Don't watch it if you haven't seen the movie, in which case stop fannying about on the Internet and go watch it right now.


Anyway, it was a really treat to end of what has been a spectacularly stressful and tiring week.
It is official, Scrubs has peaked! They featured an Audioslave song in the first episode of the 6th season. And it is not just any song, but Be your self, from Out of Exile, one of the most awesome songs ... ever. Does it get any better than this? I think not (unless Audioslave actually showed up in one of the Episodes, hmmm... must email Zach Braff and/or Bill Lawrence).
They
are back!!! Have a reason to get up in the mornings again!!! Huzzah*!!!
* The Huzzah is inspired by Pirates (which I have watched
one
ten times too many) instead of the usual Hurray. Which makes me want to replace all
r
s with
z
s and
y
s with
h
s. Watch this space for how that turns out or zather how it tunzs out ;)


Why has no one ever told me about this? Why? I am mad at everyone. *toddles off to listen to vintage radio*

And while we are on the topic of radio, Ricky Gervais has another short free podcast series going. Go listen to it. The Thanksgiving episode is extremely hillarious !!!
I just found out all by myself that Bob Dylan has a radio show on XM called the Theme Time Radio Hour. These are hour long shows that play songs with a certain theme and is just awesome. A long time ago, I used to collect songs about rain for some reason, and this is kind of like that. And it is fucking amazing. The songs are a really neat mix, made up of old classics that I know pretty well and then some really old blues and jazz numbers that I have never heard but sounds quite lovely. And to top it all is Bob Dylan hosting (and for once being quite comprehensible) and being v. eloquent and poetic with wonderful pronunciation and enunciation.
Hinder
is the new
Nickelback
. And I hate them both. And no, I will not fucking look at that fucking photograph, and no one fucking wants to be a fucking rockstar like you (though I won't mind the drug dealer on speed dial), and so she called you, get fucking over your fucking self. She probably just wants her stuff back, you loser.
die pop rock die !!!!!!
*extreme profanity alert*